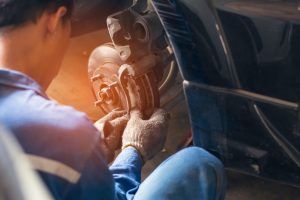 The Holidays are one of the busiest times of the year. People are doing last-minute shopping, grocery runs, going to parties, and even traveling to spend time with their loved ones in different parts of the US. You may not know it but the hardest worker during this time of the year is your car. Thus, getting it properly checked, particularly the brakes, will ensure that you are safe and sound during the holiday rush. 
Did you know that worn brakes are especially dangerous in the winter season? The icy road and the cold weather are not exactly friendly to your braking system. As it becomes difficult to slow down and stop on icy roads, your brakes need to work harder in order to function properly during these conditions. Checking out a Toyota servicing near me will guarantee that your brakes will operate in good condition when doing errands on the holidays. You can also look for a trusted brake repair Broomfield Co shop to ensure that the brakes on your Toyota are in good condition for the road.
For those who are also planning to take their Toyota on a holiday road trip, your first priority should be bringing it to a brake repair Broomfield shop to make sure that it is roadworthy to avoid any untoward accident due to a faulty brake. If you're thinking of heading up to the mountains, your brakes need to work twice as hard to make sure that your speed is controlled when going uphill and downhill. As your brake system uses friction to stop your vehicle, it generates heat. And when there's too much heat, there is a tendency for your brakes to overheat. This will in turn cause your brakes to stop functioning which can lead to irreversible damage to the tires and other parts of the vehicle. In worst-case scenarios, brake pads can catch fire due to overheating. Thus, proper maintenance is needed to avoid this.
As the brakes are an essential part of your vehicle, you need to know that they are designed to wear slowly in time. There are some signs that show your brakes already need maintenance and recognizing them is important to avoid potential brake problems:
You hear squealing and squeaking noises coming from the brakes

It takes longer to stop even though you hit your brakes hard enough

If your brake pads look thin, then it's time for a brake repair Broomfield

You feel a vibration when braking

There's some sort of grinding when you hit the brakes

If you see your brake pad indicator light comes on
Braking system issues can easily be fixed. You just need to visit a brake repair Broomfield Co shop and have them replaced as faulty brakes can be potentially life-threatening. 
Regular maintenance of your vehicle, particularly your brakes, does not only help in avoiding a major mishap on the road but can also save you hundreds of dollars from the replacement of worn-out parts. If you're looking for the best auto repair shop, check out Toyota servicing near me or brake repair Broomfield Co as your car will be in good hands with the expert mechanics there.